10.03. How can I create a payment collection project for Paysera Tickets?
Posted by Justina Dolgovičienė on 2016-12-13 15:09
Log in to Paysera
Log in https://bank.paysera.com/en/login to your Paysera account. If you don't have a Paysera account, you can sign up here: REGISTRATION https://bank.paysera.com/en/registration#/registration
Order a payment collection service
In order to enable a payment collection service, you have to log in to your account, click on the cog wheel and select Service management > Enable/Disable. Then select Online payment collection via e-banking and other systems and order the service.
Note! To order this service, the user must fully complete an identification procedure. Step-by-step identification instructions can be found in your Paysera account.


Create a payment collection project
In the menu on the left, select Payment gateway > Manage projects, then Add a new project.
Paysera Tickets project settings



Note! A payment collection project is created only once, so you can use one project for all your events.
Project address
Make sure to indicate https://tickets.paysera.com in the project address field. The ownership of this address does not have to be verified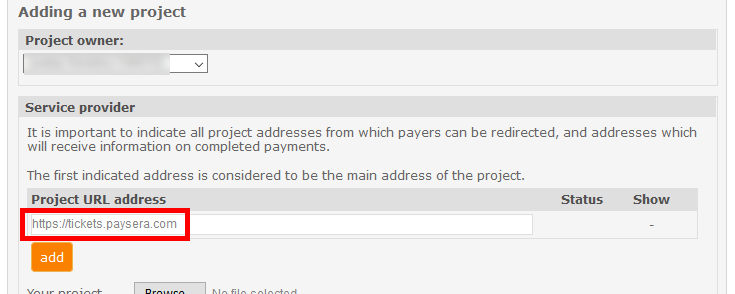 Project settings
Make sure to enable the following options in the payment collection service settings:
not allow to settle twice.
not to send letters to the clients who have started, but haven't finished settling. Usually the letter is sent after 3 hours and only for the payment methods that are possible to carry out in 15 minutes.
return the payer to the project website according to an indicated accepturl address only after receiving a final confirmation of a successful payment.
Other information fields should be filled in according to your planned event or events. One project can be used for unlimited number of events
Project activation

After filling in all the required data, click on Submit for review. You can begin merchandising only after the project is activated. The verification of the project can take up to 48 h. In case you have any questions, please contact the Client Support Center

Project data for creating an event
In order to create a chargeable event, enter the project id and the project password in the Paysera system. You can the data if you log in to your account and select Payment gateway > Manage projects > General project settings
---